Description
AlkaViva's proprietary UltraWater technology changes oxidizing, chemical-laden tap water into clean, healthy, mineral-rich alkaline water. You can now have pristine mountain stream like water at your fingertips consuming no electricity. The UltraWater Phd produces water with up to  1000 times more acid neutralizing power than tap or bottled water.  The unique filter also provides more antioxidant potential. The specialize filter contains carefully sourced, proprietary ionizing media;  nothing is unsafe and contaminant free.  This water is a delicious way to stay hydrated and pH balanced.
Independent, EPA certified laboratory testing in the USA, confirms that 99.9% of the most common tap water contaminants are removed. This unique new patent-pending filtration technology removes pharmaceuticals, heavy metals, pesticides, chlorine, chloramines, fluoride, and other chemicals.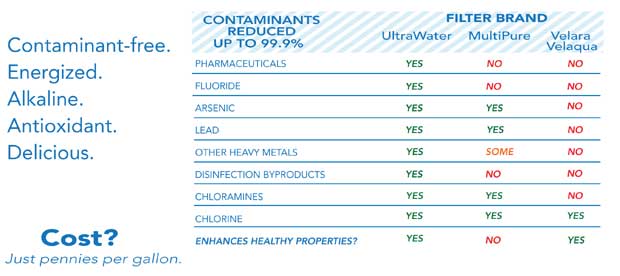 With other alkaline ionizers – electric or non-electric – you are drinking the health enhancing properties they offer along with the common contaminants found in tap water. To remove those you need an extra pre-filter system.  With UltraWater you get both: the cleanest and healthiest. Why drink anything less?
Flow Through water processing means no storage bottles are necessary

Provides great tasting, filtered water with increased alkalinity

pH Range of 8.5 to 9.5 (depends on water source quality)

ORP Range 150 to – 350; ORP Reduction up to 500 mV (depends on water source quality)

Patent Pending UltaWater technology eliminates Activated Alumina or harmful media resins

Eco-Friendly – less filters, no more storage bottles for disposal

The outer casing is made of 316 marine grade stainless steel

Retains essential minerals – calcium, magnesium and potassium

Independent, EPA certified laboratory testing
UltraWater Phd Stainless Steel body with spout

UltraWater Filter

Tubing

Faucet Divertor

Insturctions
Dimensions – 4″ Dia x 12″ H

Standing Weight 4 lb

Flow Rate – up to 3.2 (3L) per minute (depends on source water pressure)

Filter Life – 500 Gallons

Manufactures 1 Year limited warranty

Made in Taiwan, Filters Made in USA
The Non-electric counter top unit. The unit will install using a ¼" diverter and ¼" water supply hose. The Diverter and Hose arrive attached to the Counter Top Vessel. All you will need to do is connect the Diverter to faucet. Once the unit is connected to the faucet just turn on the faucet and pull the diverter pin, no valve is needed.  Just used the faucet to control the rate of water flow. Below I have included the performance specs of the Counter top unit.