Description
Rethink your filtered water.
The elita Pure is not just any old water filter system. It's offers you purification level filtration while allowing the essential alkalizing minerals to pass through.
Choose the elita Pure for the healthiest and cleanest drinking water.
elita Pure Contaminant Filtration
Removes virtually all contaminants (including heavy metals, pharma, chlorine, chloramine, VOCs etc.) up to 99.9%. Unmatched performance with proven test results.

.01M Micro-organism Filtration
Reduces virtually all microbial and other contaminants. Now there is ONE filter for both broad -based contaminants AND for micro-organisms removal.

elita Pure Enhanced Properties
As well as filtering, the elitaPure creates ideal levels of hydrogen enriched water (H2), ionization (-ORP) and alkalinity (pH).
Only the elita is capable of giving you the best water in all ways.
Creates Great Tasting Water
Recent advancements in the way water is treated means that nothing is added to your water. This in turn means great tasting water – just like nature Intended.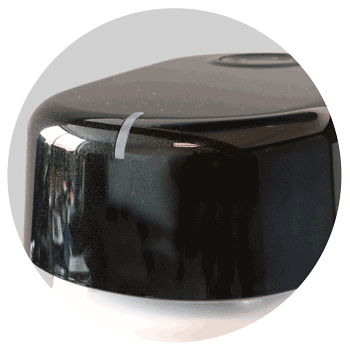 Purely Intelligent.
Never guess when it's time to replace your filter. The Smart Alarm will flash RED when it's time for a replacement (approximately 700 gallons). Never compromise your safety or health by drinking from an expired filter. We've got your back.
Purely Effortless.
The Easy Replacement Filter System makes it easy for anyone to replace the filter in the elita Pure. We use a unique lever operated and patent pending mechanism that requires no wrenches, no straining – just a simple flip of a lever!
Purely Convenient.
The elita Pure comes with a detachable hose that allows you to fill any size container with the cleanest, healthiest Ultra Water. Easy to attach and remove, and small enough for convenient storage.
Purely Simple
The dispensing button at the top of the elitaPure allows for quick and easy access to clean, alkaline, H2 enhanced water. Simply press the button to start dispensing, then press it again once you're finished. Connect to your water supply at the tap with a diverter or directly to your cold water line.
Purely Efficient
Ultra Water + .01M Filtration reduces virtually all microbial and other contaminants up to 99.9%. Get purification level filtration with the added benefits of alkalizing minerals for the cleanest, healthiest drinking water.
UltraWater Test Results Here
Micro-organism Test Results Here
Purely Elegant.
While packing a punch with filtration and ionization, the elita Pure retains its clean, minimalistic design that's an elegant addition to any kitchen. It's compact, so you don't have to worry about a bulky unit sitting on your countertop. Keep your kitchen uncluttered and your water clean.
Included with the elita Pure:
AA Batteries (2)
User Manual
1.5 m / 4.9 ft. White Inlet Hose (1)
Diverter Valve with Accessories (1)
Bonus Detachable Outlet Hose (1)
Angle Stop Adapter (upon request only) / styles may vary
pH Reagent Drops
Specs
| | |
| --- | --- |
| Model | elita Pure |
| Filter Technology | Ultra Water Impregnated Carbon Block + Hollow Membrane Technology |
| Filter Origin | USA (media) / South Korea (assembly) |
| Filter Replacement Method | ERF one-touch lever method |
| Filter Replacement Interval | Approximately one-year |
| Filter Capacity | 700 Gallons |
| Installation | Countertop with diverter / direct plumb |
| Temperature | 5° C – 35° C / 41° F – 95° F |
| Water Pressure | 1.5 kgf / cm2 – 7.0 kgf / cm2 – 21 – 100 psi |
| Flow Rate | 1.5 – 2 LPM |
| Weight | 6 lbs. |
| Size (W x D x H) | 5.1″ x 8.6″ x 12.2″ |
| SKU | 0019984 |
The warranty on the AlkaViva elita products is for 3 years and begins on the original purchase date. The AlkaViva elita warranty covers all parts and 100% of labor costs due to manufacturing defects only. Customer is responsible for shipping costs both ways unless unit is bad out of the box and returned within 30 days of purchase. The warranty expressly excludes damage caused by environmental factors including (but not limited to) mineral build-up due to hard water or high levels of iron or poor source water quality. No need to register your elita for warranty as proof of purchase is sufficient.