Description
Super ANGEL CM20K COMMERCIAL JUICER "MINI"
Ideal for hotels, restaurants, juice bars and cafes, the Angel commercial juicer 20K-GS mini takes the technology from its premium line of home twin-gear juicers and super-sizes it. Made of durable 304 18-8 stainless steel, this juicer has been upgraded and is now even better.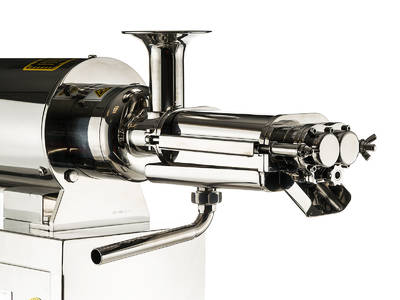 The best juice from a commercial machine
Most hotels, restaurants, and juice bars still use centrifugal juicers. These types of machines are not only noisy and prone to breakdown, they also make foamy and watery juice. Angel juicers are designed and built with no compromises. No plastics are used in the housing or in any of the juice extraction components – it is all 100% stainless steel. The twin gear technology uses a  unique 3-stage juicing sytem. Rotating against each other, the twin gears first cut produce into tiny pieces, then "chews" it into the smallest pieces possible before forcing it under high pressure through a screen. The precision engineering involved in manufacturing these gears offers the ultimate in breakdown of fruit and vegetable fibers and delivers the best possible nutrient extraction. The result is juice with the best taste and nutrition, and a far higher yield than other types of juicers.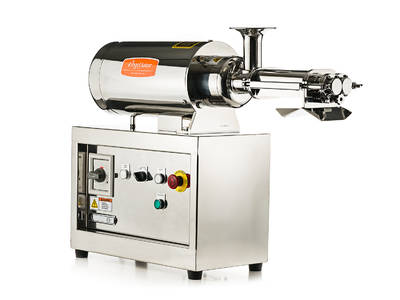 Power for commercial needs
With 10 HP of twin gear power, the Angel commercial juicer can process up to 44 pounds of produce per hour with up to a 90% extraction efficiency. For businesses making large quantities of juice, the investment in an Angel will pay off in terms of increased yield. In addition, the superior quality of the juice ensures satisfied customers.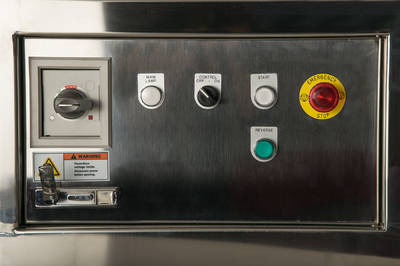 Improved construction
The Angel commercial juicer "mini" has been redesigned. Now all the electrical parts are sealed in a housing below the juicer. This ensures that no juice can get into the motor. The controls are fully industrial grade, including a main power breaker and emergency shutoff switch. Also minor structural changes have been made to the filter as well as the rotating gears to provide even higher juice yield.
Angel juicer AG 20K mini is suitable for Juice bar, Restaurant, hospitals, clinics that treat their patients with juice and natural therapies, small farm, hotel, retreat centers, and other commercial use. It is manufactured and optimized specifically for the food that is mainly would be juicing. You would need to tell us about the specific food you intend to use it for for example wheat grass, angelica, soft fruits or herbs. It is best to specify one main type of food so we optimize the housing filter to that particular food. However, other food can be juiced using the same housing, but may not produce juice optimally. Another option for those interested in various food is to order a second filter (one for fruits and one for herbs or another for nuts).
Angel juicer commercial series are the most advanced high quality all stainless steel(full stainless 304(18-8)) best juicers over the past thirty years with continuous research and development. Angel juicers brought the first twin gear juicing technology in the world. Based on our ongoing testing and customers' feedback, we have made minor but important structural improvement to the filter and the finely tuned of the gears to produce Shattering Helical Gears Technology. The result is better performance housing filter and even more juice and nutritional extraction. See lab analysis. The bottom line is that there is hardly a commercial juicer that can match or come close to the superior nutritional extraction of the Angel Juicer commercial series. Angel juicer commercial machines are not suitable for juicing sugarcane and should be avoided to prevent damage to the machine. We have a prototype machine that is still under testing for sugar cane and currently not available for retail.
Technical parameters:
Motor Power: 0,5 HP
Twin Gear Power: 10 HP
Maximum input: 44 lbs carrots/hour.,
Extraction rate: 70-80% Vegetables and 80-90% fruits.
(vary according to the season and the type of vegetable)
Parameters
Color:stainless steel
Juicing Process:dual gear
R.P.M.85 r.p.m.
Weight:88 lbs
Dimensions: 17.7 x 33.5 x 11 inches
Warranty (motor / parts):1/1 years